Published: Apr 10, 2023
Nails without any design look bland. So, it is good to have a design on nails. This spring, many nail designs are trending. These are so vibrant. These add richness to the nails. You can do any design. You can also mix and match. You can go monochromatic.
11 Best Spring Nail Trends 2023
1: Lip Gloss Nails
Image Source: pinterest.com
There are trends like 'lip gloss nails' that are everywhere. These are pure, neutral shades. These add color to your nails and at the same time, you can see the natural nail also. This is a minimal nail trend in spring. You can apply cuticle oil to your nails after you apply the shade. This will keep your nails healthy and shiny.
You can use OPI Bubble Bath brand nail polish to achieve this trend. This color looks good on all skin tones. You can also use nail art if you wish to. You can mix it with other shades to experiment. This makes your nail look groomed. You can go for nail polishes that are semi-sheer to get a nice shine.
2: Best Nail Embellishments Spring Trends 2023
Image source: pinterest.com
3D nail art and embellishments are going to really be a trend for this spring. You can do sculpting art with gel on your nails. You can add embellishments to your nails. You can go for nail jewelry. You can add piercings. You can add chains to nails. It looks best on longer nails. But you can try it on shorter nails also.
Velvet Nails Spring Trends 2023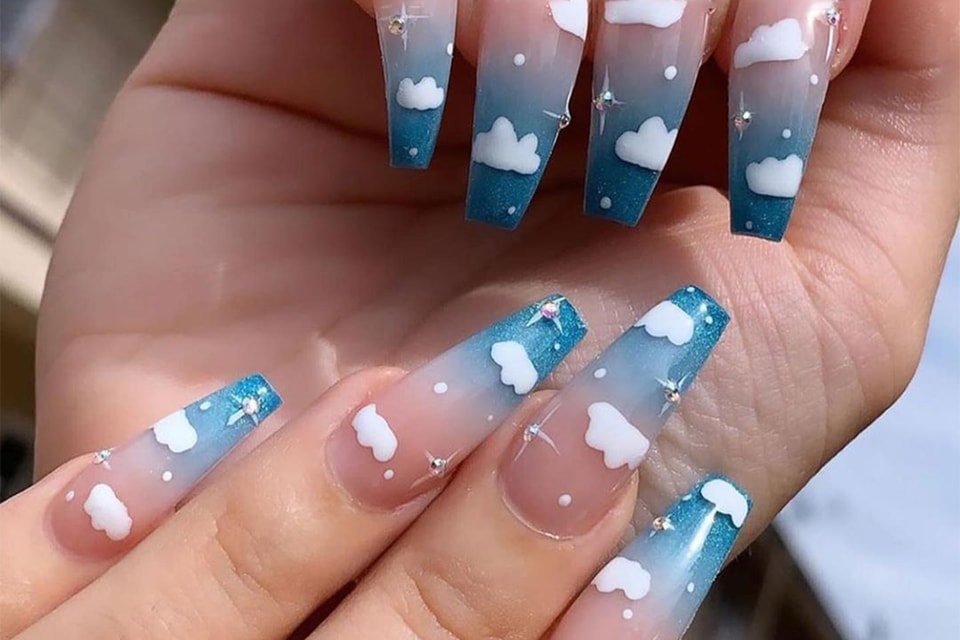 Image source: pinterest.com
Velvet nails are the biggest nail trend of spring. This is also known by the name cat eye nails. The lighter colors are especially good. These are perfect for spring. These are an extra touch for a manicure.
You can go for pastel green and pink velvet nails. You can create velvet nails with magnetic polish. Apply the nail polish to your nails. Then, use the magnet to make the design. After that, you can apply a top coat.
Floral Nail Art Designs for Beginners
Image source: pinterest.com
Spring is synonymous with the blooming of flowers. Florals for nails may not be that innovative. It is a classic spring nail trend. Floral nails can be made with gel and regular nail polish. You can also apply fresh flowers. This trend keeps on repeating each year.
It is a beautiful nail trend. It can be made as a full and best Nail Design or accent nail. You can use pastel nail polish shades to create this look. You would need a dotting tool or Bobby pin to make this nail art. Put a dot in the center. Then, make a shape of a flower.
Monochromatic Nail Colors Trends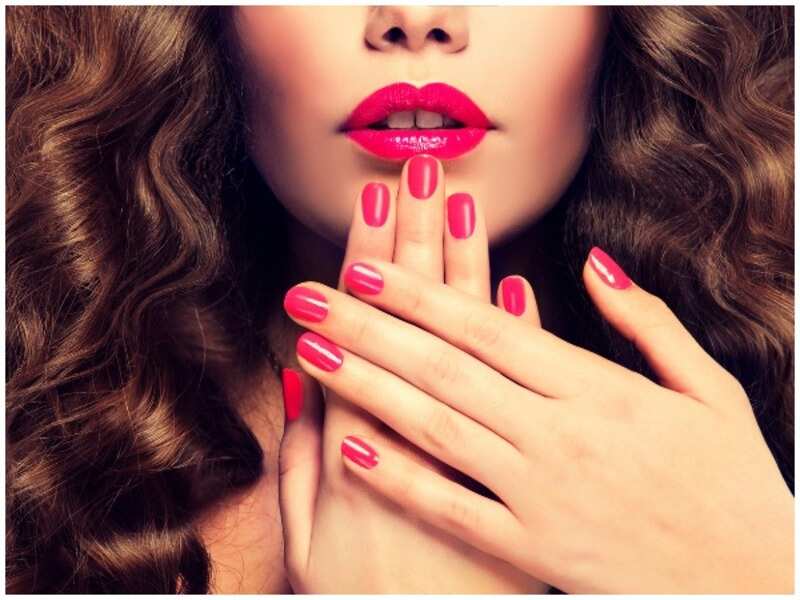 Image source: pinterest.com
Monochromatic nails are classic. These are timeless. These can be made at home easily. Many people started doing monochromatic nails during the lockdown. You can use sheer shades. You can also go for black, red, and white.
Monochromatic nails are being used by celebrities also. You can apply a base coat first and then a top coat. This will make the shade last longer on your nails. This will also give a great shine. If you have weak nails, you can go for monochromatic nail shades.
Mixing and Matching Shades Spring Nail Trends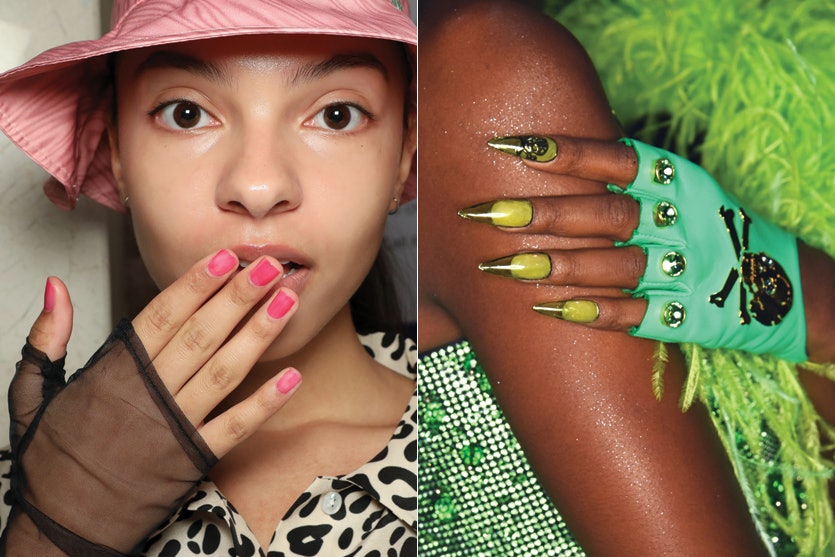 Image source: pinterest.com
Monochromatic nails are classic. But you can always mix and match. You can get multiple designs and shades on the nails of both of your hands. You can use different nail polishes, textures, and designs. This spring we will see a mix of patterns and shades on nails. This is going to be trendy. This trend is now back.
Spring 2023 Manicure NailTrends
Micro French Manicure
Image source: pinterest.com
It is a subtle manicure. It is a minimalist take on the classic French manicure. The line of the nail polish is thinner than the classic French manicure. The Micro French Manicure is not something new. It is quite as old as the classic French manicure. The micro French is popular among celebrities.
This is because they have to be on screen most of the time and they need something that's not a solid manicure. The traditional French manicure is also simple. And that's why it is classic. But the micro French manicure is simpler. And that's why many people are going for it. The micro French manicure can be done on either short or long nails. The base color should have coverage such that the natural color of the nail is hidden.
Swirls Manicure Spring Nail Trends
Image source: pinterest.com
Swirls, twists, and spirals are all dominating in the manicure designs. These look really cool. Swirls manicure is versatile. To do the swirls manicure, you should have a color palette in your mind. You should have a basic idea of shades you want in your manicure. You can use black and white navy stripes.
You can get groovy swirls by mixing shades of blue and green. It is like a '70s design. It is very cute. You can get purple waves on your nails. You can get daisy design on your nails. It is also a '70s design. This daisy's manicure is very bright. It makes use of bright colors like orange and yellow. You can do neon swirls on your nails.
Y2K Manicure Spring Nail Trends in 2023
Image source: pinterest.com
You can apply Y2K symbols on your nails. So, it can be butterflies, flames, or slogans. These symbolize the Y2K aesthetic. This manicure will be a revival of the Y2K era. The Y2K era was very colorful.
The Y2K manicure gives you artistic freedom. You can mix and match colors. You can be adventurous. You can get 3D charms on your nails. You can get a variety of textures. You can get silver chrome nails. These are also called mirror nails. These remind us of DVD players and digital cameras. You have to use chrome powder for this manicure.
Nail Designs for Spring 2023
Pastel Nail Designs Trends
Image source: pinterest.com
Pastel nails look beautiful in spring. You can get glazed nails in pastel shades. You can go for an ombre pastel. But this one is something that can be done by pros only. You can get pastel marble. This is like a marble effect on your nails. This gives a classy feel.
It looks great with a glossy finish. You can use color block pastels. It can be done by applying different pastel shades on each finger. You can get a powdery matte topcoat for that classy look. You can go for rainbow pastels.
Emoji Nail Design
Image source: pinterest.com
Emoji nail art is also becoming popular. This is because of the craze of social media. You can make them with nail paint. You can make them with marker pens also.
Some nail designs can be made with nail art brushes and dotting pens. You can make the design by initially making tiny dots. Then, you can connect the dots. Emoji nail designs can be used to show any emotion. You can draw any emotion.
By Bhawna
You May Also Like
Kylie Jenner Has The Best Nail Art Designs