Published: May 16, 2022
The Farm Rio Garden Dress is a captivating and distinctive piece that embodies the brand's signature style. Known for its vibrant patterns, rich colors, and playful designs, Farm Rio offers a range of clothing inspired by the lush landscapes of Brazil. The Garden Dress is a prime example of their unique aesthetic and is perfect for those seeking a standout and bohemian look.
Design and Patterns:
The Farm Rio Garden Dress showcases an array of eye-catching patterns, often featuring bold florals, tropical motifs, or eclectic prints. These patterns are meticulously designed, combining vibrant colours and intricate details that evoke a sense of joy and playfulness.
Silhouette and Fit:
The dress typically features a loose and flowy silhouette, allowing for comfort and ease of movement. It is often designed with a relaxed, bohemian-inspired vibe, making it suitable for casual occasions and outdoor events.
The Perfect Summer Garden Dress for Any Occasion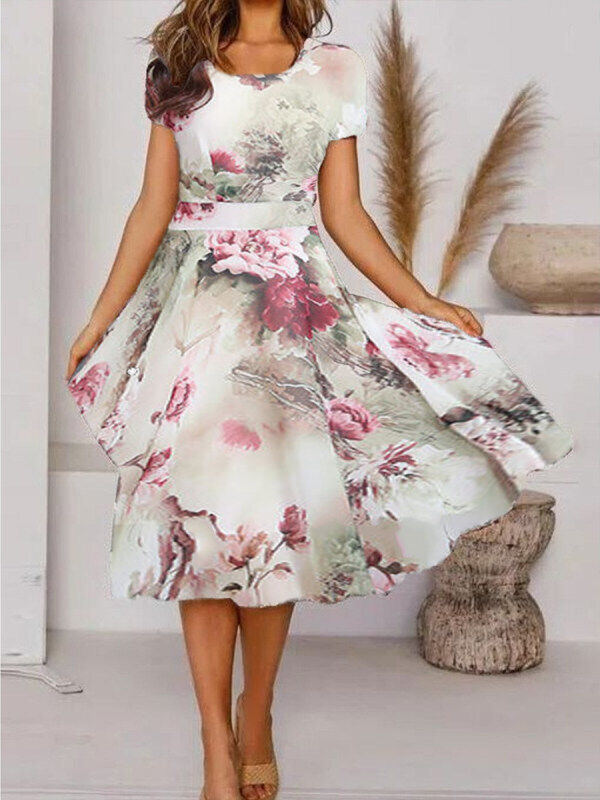 Image Source: google.com
Farm Rio takes pride in using sustainable and eco-friendly materials for their garments, and the Garden Dress is no exception. It is often crafted from lightweight and breathable fabrics such as rayon or viscose, which contribute to its effortless drape and comfort.
The versatile nature of the Farm Rio Garden Dress allows for a variety of styling options. For a casual daytime look, it can be paired with flat sandals or espadrilles, a wide-brimmed hat, and minimal jewellery. To elevate the dress for an evening event, it can be accessorised with statement earrings, strappy heels, and a clutch. The dress can be worn as a standalone statement piece or layered with a denim jacket or lightweight cardigan for added versatility.
The Ultimate Style Guide: How to wear Farm Rio Summer Garden Dress
The Farm Rio dress is a versatile and eye-catching piece that can be styled in various ways to suit different occasions and personal preferences. Here is an ultimate style guide on how to wear the Farm Rio dress:
Effortless Boho Chic:
Embrace the bohemian spirit by pairing your Farm Rio dress with natural accessories. Opt for a floppy straw hat, a fringed cross body bag, and leather sandals. Layer delicate gold jewellery such as layered necklaces or stacked bracelets to enhance the boho vibe. Finish the look with loose, tousled hair and minimal makeup for a carefree and effortlessly chic ensemble.
Image Source: google.com
For a casual and comfortable daytime outfit, pair your Farm Rio dress with flat sandals or sneakers. Add a denim jacket or a lightweight cardigan for a layered look, especially in cooler weather. Accessorise with a straw tote bag and oversized sunglasses. Keep your hair relaxed in loose waves or a messy bun, and opt for natural-looking makeup for an easygoing yet stylish appearance.
Elevate your Farm Rio dress for an evening event by adding sophisticated accessories. Choose strappy heels or embellished sandals to dress up the look. Enhance the dress's colours or patterns with coordinating statement earrings or a bold clutch. Consider adding a belt to cinch the waist and create a more defined silhouette. Style your hair in an elegant updo or polished waves, and opt for a slightly more dramatic makeup look with a bold lip or smoky eyes.
Experiment with mixing patterns and adding trendy elements to your Farm Rio dress. Layer a denim or leather jacket over the dress for an edgy touch. Style with ankle boots or platform sneakers for a trendy, street-style-inspired look. Accessorise with statement sunglasses, a wide-brimmed fedora hat, and chunky jewellery. Consider adding a belt bag or a crossbody bag for a hands-free and fashionable option.
If you're heading to a beach or resort destination, the Farm Rio dress is an ideal choice. Pair it with colourful sandals or espadrilles and accessorise with a straw or woven tote bag. Add a wide-brimmed sun hat, oversized sunglasses, and dainty shell or beaded jewellery for a tropical touch. Style your hair in loose beach waves or a simple braid, and opt for a natural, glowing makeup look with bronzed skin and glossy lips.
Why the Farm Rio Summer Dress is the perfect vacation outfit
The Farm Rio Summer Dress is indeed the perfect vacation outfit for several reasons. Its vibrant patterns, lightweight fabric, and versatile design make it an ideal choice for those seeking comfort, style, and a touch of tropical flair while enjoying their vacation. Here are some reasons why the Farm Rio Summer Dress is a must-have for your vacation wardrobe.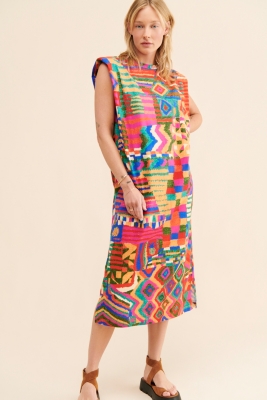 Image Source: google.com
Vibrant and Eye-Catching Patterns: The Farm Rio Summer Dress is known for its bold and vibrant patterns inspired by the beauty of nature. Whether it's colorful florals, tropical motifs, or eclectic prints, these patterns instantly evoke a sense of vacation and add a playful touch to your look. The dress becomes a statement piece on its own, allowing you to embrace the vacation spirit and stand out in a crowd.
Lightweight and Breathable Fabric: When you're on vacation, comfort is key. The Farm Rio Summer Dress is typically made from lightweight and breathable fabrics like rayon or viscose, which allow for optimal airflow and prevent you from feeling hot or restricted in warmer climates. The fabric drapes effortlessly, ensuring that you stay cool and comfortable while exploring new destinations or relaxing on the beach.
Versatile and Easy to Style: The Farm Rio Summer Dress offers versatility in styling options, making it suitable for various vacation activities. During the day, you can pair it with sandals or espadrilles for a casual and relaxed look. Add a wide-brimmed hat, a straw tote, and sunglasses to complete the beach-ready ensemble. In the evening, you can dress it up with wedge sandals or heels, statement jewellery, and a clutch for a more polished and chic vibe. The dress effortlessly transitions from day to night, allowing you to make the most of your vacation wardrobe.
Image Source: google.com
Packable and Wrinkle-Resistant: When travelling, it's important to have clothing that is easy to pack and doesn't require much maintenance. The Farm Rio Summer Dress is lightweight and can be rolled up, making it compact and space-efficient in your luggage. Additionally, the fabric is often wrinkle-resistant, meaning you can unpack your dress and wear it right away without worrying about creases or ironing.
Embracing the Vacation Vibe: The Farm Rio Summer Dress captures the essence of a tropical vacation. Its vibrant colours and playful patterns mirror the beauty of exotic destinations and help create a carefree and joyful atmosphere. By wearing this dress, you'll not only look the part but also feel immersed in the vacation spirit, allowing you to fully enjoy and embrace your time away.
By : Chetali Pandey