Published: Sep 27, 2023
We all want to enjoy that cool pool time. On sunny days when you can just relax and enjoy the heat. But even for that, you need to look your best. And is best then swimsuit for the cool beach or pool day, right?
Today we have focused specially on best swimsuit for apple shaped plus size. In this article, we'll cover everything from fit to style, and even touch on the possibility of wearing jumpsuits. So, let's dive in!
Apple Shaped Plus Size Swimsuits: The Perfect Fit for Any Body Type
Image Source: google.com
First things first, it's important to understand what it means to have an apple-shaped body. If you're apple-shaped, you tend to carry your weight in the midsection while having slimmer legs and arms. This body type is characterized by a fuller bust and a rounder waistline. When choosing a swimsuit, the key is to balance your proportions and create a more hourglass-like silhouette.
One-piece swimsuits are often a great choice for apple-shaped plus-size women. These design elements help to camouflage any tummy concerns and provide a smoother appearance. Additionally, swimsuits with built-in tummy control panels offer extra support and confidence.
Related Article: Bathing Suits for Women Over 50: Style Uncompromised!
Another best swimsuit for apple shaped plus size option is a high-waisted bikini bottom paired with a supportive bikini top. High-waisted bottoms help to define your waist and create the illusion of curves. Make sure the bikini top offers ample support for your bust, and you're good to go.
Tankinis are a versatile choice. They allow you to mix and match tops and bottoms while still enjoying the coverage and comfort of a one-piece.
How to Choose the Right Swimsuit for Water Aerobics?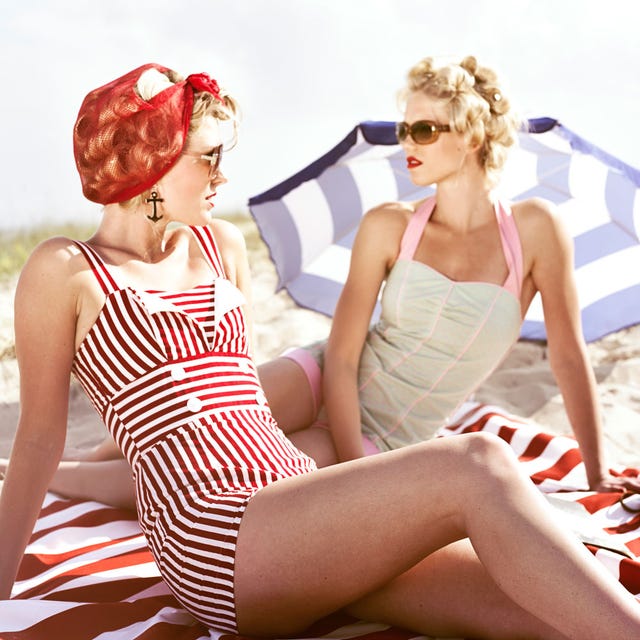 Image Source: google.com
Water aerobics is a fantastic way to stay active and cool off during the summer months. If you're planning to engage in water aerobics sessions then you must be looking for a best swimsuit for water aerobics. Here are some tips for selecting best swimsuit for water aerobics activities:
Supportive Top: Opt for a swimsuit top with good bust support. Look for features like underwire or a built-in shelf bra to keep everything in place while you move in the water.
Stay Covered: Since water aerobics involves a lot of movement, it's a good idea to choose a swimsuit with full coverage to prevent any wardrobe malfunctions. A one-piece suit with a higher neckline and back is ideal.
Durability: Chlorine in pool water can be tough on swimsuits, so choose one made from chlorine-resistant fabric to ensure it lasts longer.
Comfortable Straps: Ensure that the swimsuit straps are comfortable and won't dig into your shoulders as you exercise.
Range of Motion: Best swimsuit for water aerobics is the one which gives a good range of motion. Test them by moving your arms and legs in different directions.
What Is the Most Flattering Swimsuit for Apple Shape Plus Size?
Swimsuits can be complicated matter to choose. Specially if you have saggy breasts. Finding best swimsuits for sagging breasts can be challenging. And to ensure to get an appealing and flattering look is even more challenging. But here, we have made it easy for you. Check out some tips to enjoy the swimsuit days.
Wrap Swimsuits:
Swimsuits with a wrap-style top or a wraparound design can create a visually appealing waistline. These swimsuits draw attention away from the midsection while highlighting your curves.
V-Necklines:
Look for swimsuits with V-necklines as they elongate your upper body and draw attention upwards, away from your waist.
Colour and Patterns:
Darker colours and vertical stripes can be your best friends when it comes to swimsuit selection. Specially, best color swimsuit for pale skin can be the darker shades. They have a slimming effect and can make your midsection appear smaller.
A-line Skirts:
If you prefer a skirted swimsuit, opt for one with an A-line skirt. This style flares out from the waist and provides extra coverage for the hip area.
Halter Necklines:
Halter neck swimsuits lift and support your bust, creating a more balanced look.
Can Apple Body Shape Wear Jumpsuits?
Absolutely! Apple-shaped plus-size women can rock jumpsuits as well. The key is to choose jumpsuits that create the illusion of a defined waistline while highlighting your best features.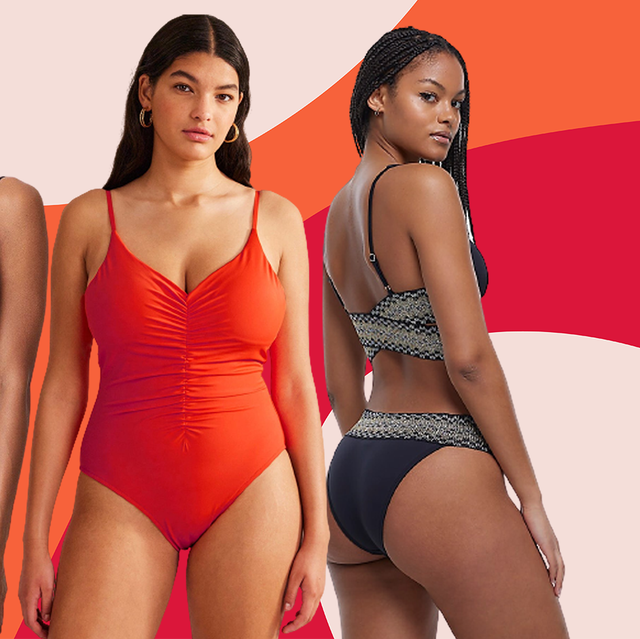 Image Source: google.com
You can also try the belted jumpsuits. They come with built-in belts or cinch the waist with a stylish belt to create that much-desired hourglass shape. Otherwise wrap jumpsuits can be another choice for you. Similar to swimsuits, wrap-style jumpsuits can work wonders for apple-shaped figures. They cinch at the waist and flow gracefully, giving you a more balanced silhouette.
Then wide leg jumpsuits can also be a good option. Opt for wide-leg jumpsuits that balance out your proportions. These provide a more relaxed and comfortable fit. And yes, V-Neck or deep neckline draw attention upward and away from the midsection. Or I f the jumpsuit has stripes, vertical ones can create a slimming effect.
Read Also: Who Should Wear Trousers for Women?
We know finding the perfect swimsuit and jumpsuit for apple-shaped plus-size women is all about accentuating your strengths and feeling confident in your own skin. Never hesitate to feel comfortable in your body. If you have confidence, you can achieve any look want!
Sonali Tomar